Your direct support is crucial. This year, our PTA will spend around $300,000, which is $350 per child.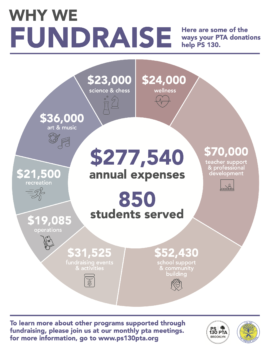 We are here to celebrate our children and build a strong sense of community.
We are also here to support every member of the school's talented and dedicated staff.
We listen to what they need and seek to provide it. We are here to help them do their jobs the best way they can.
Please join us in making this work possible by making a tax-deductible donation to our Annual Appeal via Konstella today. Consider spreading your donation out over the school year and making a recurring monthly donation! 
Please be as generous as you can, but know that ANY amount your family can give is valued. Diversity is a strength of our community and we appreciate that not all families can make the same contribution. 
Our primary goal is to enrich the education of every PS 130 student and as a result to uplift our entire community as a whole. We need your help to make this happen.
If you prefer to donate by cash/check, you can return in a sealed envelope marked "PS130 PTA Annual Appeal" by putting it in your child's homework folder. Checks should be payable to "PS 130 PTA." Or if sending by mail, please mail to:
PS 130 PTA
70 Ocean Parkway
Brooklyn, NY 11218
Don't forget to check with your employer to see if they will match your contribution
It takes every one of us to make a difference!

With gratitude,
Megan Scott, President | PS 130 PTA
Kara Murray, Fundraising Chair | PS 130 PTA
Donate as a PS130 Konstella member
Donate Now
Donate as a PS130 Guest
Donate Now
Scan this QR code to be directed to the donation site: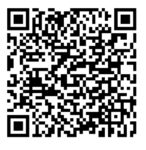 ---
Support the PTA While Shopping!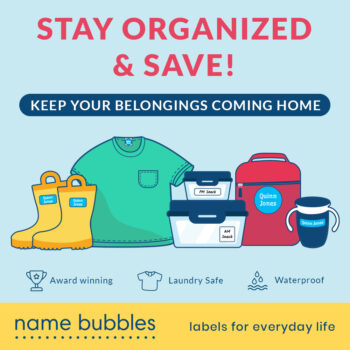 Purchase NAME BUBBLES, the name labels ranked #1 by The New York Times and Good Housekeeping and raise funds for PS 130 Afterschool. Use them on water bottles, clothing tags, lunch boxes, sports gear and more. 20 percent of all sales will go to the PTA's After School Committee to fund programming and scholarships. When buying, use the PS 130 unique url.
---

Shop Local with ShopIN.nyc
If you want to shop local, not Amazon, try ShopIN.nyc (formerly Cinch Market)! They offer same- or next-day delivery from lots of neighborhood, locally owned stores. Parents can visit https://shopin.nyc/pages/schools to get a FREE $10 gift card to use on the site. When you use the gift card to make your first purchase, our school gets a $10 donation AND 1% of all your future purchases are donated to our school as well. This really starts to add up quickly when lots of parents are doing their shopping on the site!
---
Box Tops For Education
No more clipping Box Tops! 
All you need is your phone.
Download the ALL-NEW Box Tops app and select PS130 THE PARKSIDE as your designated school

Shop as you normally would

Simply scan your store receipts to find participating products.
Click here for additional languages.  If you still have clipped Box Tops at home, click here.
---